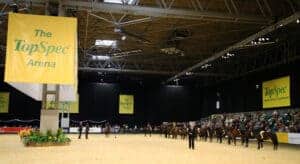 As the countdown to Horse of the Years Show's 70th Anniversary kicks in, it is with great pride that Grandstand Media Ltd welcomes TopSpec as the dedicated sponsor of the TopSpec Arena at HOYS for a further five years. The TopSpec Arena sees hundreds of competitors contest the showing championships throughout the five days, which they have dutifully qualified for, and the crowds in the arena seem to increase year on year. In 2017 we saw the move of the TopSpec Arena to its own dedicated Hall which allowed more space for spectators and creating an atmosphere unto itself.
Katy Mickle of TopSpec said: "We have been delighted to sponsor the TopSpec Arena at HOYS over the last two years and with 2018 being our third year we are very much committed to the show and the support we offer.  The new agreement for a further five years until 2023 demonstrates our strength of feeling for HOYS on both a business and personal level.  The show gets better and better, we have been very pleased with how well the TopSpec brand is promoted at, and in the run up to the event.  This is backed up by how many competitors and visitors come to see the nutritional team on the stand throughout HOYS, to ask questions and find out more about the range we offer and the feeding regimes and plans we would suggest for their horses and ponies.  Without doubt HOYS is the end of season party in the equestrian world and long may it continue."
Emma Wardell, Event Director for Horse of the Year Show, commented: "We are hugely proud of our long term relationship with TopSpec, which commenced in 2005, and this announcement confirming their continued support of the Showing Arena at HOYS until 2023.  Both Horse of the Year Show and TopSpec are committed to innovation and excellence in the equestrian industry, making this a natural partnership for both companies.  It goes without saying that we look forward to an exciting future with the team at TopSpec and to welcoming many more visitors and competitors to 'The TopSpec Arena' at HOYS."
Tickets for HOYS are on sale starting from just £34.00 for an all-day ticket Wednesday – Friday. Saturday and Sunday tickets are split into daytime and evening performances. If you are a showing enthusiast then take a look at the Mountain & Moorland Spectacular Package here: https://hoys.co.uk/tickets/packages/
To find out more and to book your tickets, please visit https://hoys.co.uk/tickets/ or call the Box Office on 0844 581 8282.
ENDS
For more information on Horse of the Year show please call 02476 858205 or email press@hoys.co.uk
For more information on TopSpec visit https://www.topspec.com/