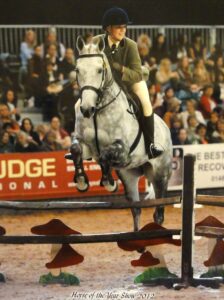 Derbyshire-based Stephanie Hill, who is a previous HOYS Finalist, has this year taken the Miss England title and is now preparing for the Miss World final in Sanya, China, on 18th November. As someone who is no stranger to HOYS, Stephanie will be delivering a different kind of performance under the spotlight in the Andrews Bowen International Arena this year. Stephanie will be taking to the microphone to sing in front of the HOYS audience as part of the Sunday Gala evening performance on 8th October.
The 22-year-old has owned her now 17-year-old gelding Diamond Cavalier Royale (Piggles) for seven years. One of Stephanie's highlights with dapple grey Piggles was coming fourth in the SEIB Search for a Star Working Hunter Horse of the Year at HOYS in 2012. Stephanie, who recently graduated with a first-class degree in radiography and oncology at the University of Sheffield, said she likes the contrast riding offers to her Miss England contests. "My job isn't glamorous either — I work in the radiotherapy department at Weston Park Hospital, but I think showjumping and showing each have a glamorous element to them. You'd be surprised how many showing competitors have competed in Miss England; I think it's because we're used to performing and being in the spotlight."
Sunday at HOYS is the day of Champions; not only will visitors be able to witness the Supreme Showing Champions be crowned and the Leading Showjumper of the Year awarded, but they will also be able to watch the final of the Virbac 3D Worming Pony Club Mounted Games Prince Philip Cup Final, which is always a crowd favourite. The Sunday Gala Evening performance is a true celebration of everything equestrian, with live music from the Red Hot Chilli Pipers, a gathering of HOYS Champions in the Andrews Bowen International Arena and the renowned reading of the Ode to the Horse poem.
To join in the celebrations on the Sunday evening secure your seat today. Tickets are still available starting from just £33.00. Whilst Wednesday, Thursday and Friday tickets are valid for the full day, Saturday and Sunday are split into daytime and evening performances, with both options allowing full day access to the HOYS retail village. With over 250 tradestands and a fun-filled five days of competition, it's just the ticket to celebrate equestrian sport and enjoy a great family day out.
To book your tickets, please visit www.hoys.co.uk/tickets or call the Box Office on 0844 581 8282.
ENDS
For more information please contact Horse of the Year Show Press Office: Tel: 02476 858205 or Email: press@grandstand.co.uk
Photo caption: Stephanie Hill competing at Horse of the Year Show 2012
Photo credit: ES Photography