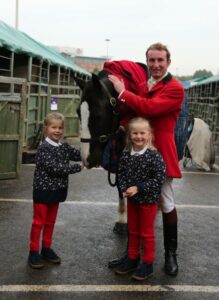 Taking place at Birmingham's NEC from 4th – 8th October, Horse of the Year Show is the perfect family day out for all ages offering everything from top-class competition and adrenaline thrilled displays to the interactive HOYS Live Zone and the Meet the Horses Area where spectators have the chance to learn more about the rare breeds of the world and their societies which work tiresomely to raise awareness about them.
For those who love to shop, the Retail Village is an equestrian utopia with tradestands galore offering a wide range of equestrian, country and leisure wear, tempting food and drink stalls, stunning jewellery and a range of beautiful homeware products. The Retail Village is certainly not to be missed, sandwiched in between the two arenas.
If you are keen to get involved and learn something new then the HOYS Live Zone is the place to be. This gives spectators the opportunity to interact and ask questions of leading industry professionals. Each day there are different sessions including: Ask The Expert with Simon Constable Equine Vets and Field Equine Vets, Health & Nutrition with Connolly's RED MILLS and TopSpec Horse Feeds, Equestrian Pilates with Sue Gould-Wright, How to Stay Injury Free with DB Muscle Therapy, as well as celebrity rider signings which on Thursday features Olympic Gold medallist Charlotte Dujardin.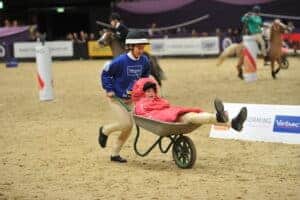 The adrenalin fuelled Virbac 3D Worming Pony Club Mounted Games is fun for all the family. Watch the action unfold as members vault and race to get their hands on the prestigious Prince Philip Cup. This fun and hotly contested competition keeps spectators on the edge of their seats and is guaranteed to get the whole crowd joining in.
This year there are two unique displays for all the family to enjoy. Atkinson Action Horses find their way from our TV screens (on dramas such as Victoria and Poldark) into the Andrews Bowen International Arena to showcase their incredible stunts and horsemanship as they perform LIMITLESS. The second display will tell The Story of the Caspian Horse in a way it has never been told before, with an incredible showcase of their talent and versatility.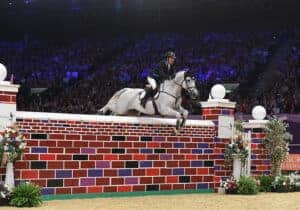 And finally, HOYS is home to world class showing and showjumping competition across five days, seeing Champions crowned and dreams come true. So whether you are joining in the HOYS Live Zone or cheering on your favourite International showjumper, you won't leave disappointed.
Tickets start from just £33 for a full 16 hours of quality entertainment. With 250 tradestands and a fun filled five days of action, there's never been a better time to book tickets. Call the Box Office on 0844 581 8282 or book online at www.hoys.co.uk/tickets
For more information contact press@hoys.co.uk or call 02476 858205
Website: https://hoys.co.uk/tickets/