Here goes…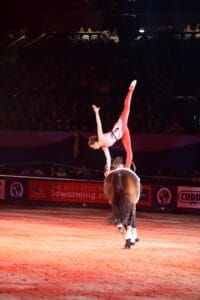 We are so excited to announce we are one of the displays at Horse of the Year Show this year for this the celebratory 70th anniversary show.
We could not be more excited and it is great to finally be able to share the news…I have been fit to burst with anticipation the last few weeks so it is great to finally be able to say we will once again perform at HOYS!!
It is with great pride that we are going to return to the HOYS stage after our shows in 2014 & 2015 and over the coming months I am going to be sharing our journey and build up to the show right here in my blog.
What to expect…
We are already discussing ideas for themes to make sure you are getting the best, most exciting performance possible.  One thing you can be sure of is that it will never have been seen before – new costumes, new music with a couple of new additions to our 'troupe' – both equine and human – bringing a whole new element to our show.
I mentioned in the past few weeks that I had upped my fitness regime…hmm… I wonder why that could be? We will be in peak physical fitness for the show to bring you great gymnastic movements with interesting choreography so get ready!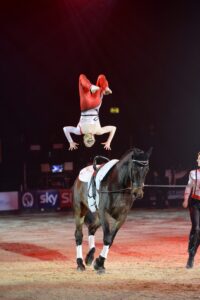 There has been a buzz around us as we reunite to discuss, plan and play about with all the ideas we have – my recent trip to Canada to visit my sister resulted in many a HOYS conversation. We had the best time at HOYS in 2014 & 2015 and we cannot wait to be back; we love performing especially in front of the world famous, unmatched HOYS crowd, under the impressive lights.
We have known for a little while that we would have the privilege of performing in this anniversary year alongside other renowned world famous displays and we can't believe it. We always talk about our HOYS stories and reminisce over what was an incredible time for us, we can't wait for the nervous wait behind the curtain and to debut our new routine. Make sure you purchase your HOYS tickets now as Saturday night premium ringside seats have already SOLD OUT!! Ooh I can't wait for that rocking Saturday night crowd…actually every HOYS crowd and performance is unique and it adds to the atmosphere.
With vaulting you never know what can happen but we can promise you drama, excitement, athleticism, incredible horses and our best possible performance. We are going to give this show everything, that you can be 100% sure of.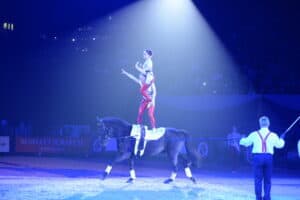 One thing that makes me so excited is to reignite vaulting with my sister. Obviously it has been extremely weird since we stopped our competitive vaulting career not to have that focus, but we have kept training and now our sole focus is putting together the best routine and show possible – without the restrictions of competition.  We have definitely missed competing together so this is unbelievably exciting and we can't wait to perform once again with our club mates – they are not just teammates but friends and family.  I will introduce you to each member over the coming months.
Our horses loved the HOYS stage in 2014 & 2015 so we can't wait to once again have them at HOYS – I will keep you up to date with their preparation and training.  There may be a couple you recognise from last time, they did such an amazing job! But there will also be at least one horse making his debut and I have no doubt he will thrive in the arena as our horses did last time.
In my video this month my sister mentioned new faces/ younger vaulters…in the three years since our last show, there have been some younger vaulters from our club making a name for themselves on the national and international stage, so get ready – here come the next generation of athletes. Take note of their names as you may be hearing more from them in the coming years.
There is so much that goes into HOYS and so many people work hard behind the scenes so before we start on this journey we want to say a massive thank you to the HOYS team.  We cannot wait to make new memories this year and meet new people at the show and hopefully we will put on an unforgettable performance.
Wow I can't quite believe it…roll on #HOYS2018
Watch Hannah's March video featuring Joanne here
Hannah Eccles
HOYS Ambassador