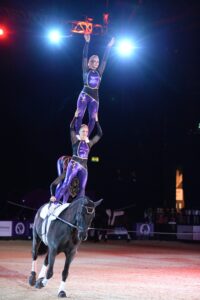 The incredible Equestrian Vaulters are the third display announced to be in the line-up at this year's 70th Anniversary Horse of the Year Show, taking place at Birmingham's NEC Genting Arena from Wednesday 3rd – Sunday 7th October 2018.
With breath-taking feats of gymnastics, exciting somersaults and awe-inspiring acrobatics the talented 'troupe' are leaping back into the spotlight following the success and popularity of their performance at the show in 2014 and 2015. This year they will further get to showcase their talent and flair with seven confirmed performances over the duration of the Show.
The teams' star performers include two of Britain's most successful Vaulters; our very own HOYS Ambassador, Hannah Eccles and her sister Joanne Eccles, who last year received an M.B.E. for her services to Equestrian Vaulting. Both now retired from the professional sport, the pair were members of Team GB and dominated the vaulting world including wins at National, European and World Championship competitions. The pair won Bronze at the World Equestrian Games in 2014 with their spectacular pas de deux performance and Joanne was crowned the 2014 World Champion. HOYS represents one of the last opportunities for fans to watch the famous Eccles sisters in action, showcasing their wonderful passion for the ever-growing sport.
Hannah Eccles says: "We are both so excited to be coming back to HOYS this year and to be given the chance to perform together again, especially for the celebratory 70th anniversary show. We are already discussing ideas for themes to make sure HOYS spectators are getting the best, most exciting performance possible.  One thing you can be sure of is that it will never have been seen before – new costumes, new music with a couple of new additions to our 'troupe' – both equine and human – bringing a whole new element to our show!"
Other displays announced so far for the line-up at HOYS include The Household Cavalry Mounted Regiment Musical Ride and Alizée Froment who is set to make her UK debut at "The World's Most Famous Horse Show" in October.
Tickets for HOYS are now on sale, starting from just £34.00 for an all-day ticket Wednesday – Friday. Saturday and Sunday tickets are split into daytime and evening performances, with a Platinum Jubilee package available for the Sunday which is a combined day and evening ticket package. To find out more and to book your tickets, please visit https://hoys.co.uk/tickets/ or call the Box Office on 0844 581 8282.
ENDS
For more information on Horse of the Year show please call 02476 858205 or email press@hoys.co.uk