2 weeks to go until #HOYS2017!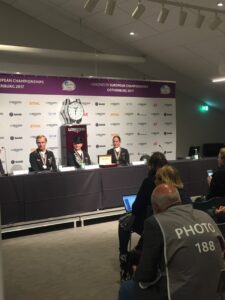 I can't believe how quickly HOYS has come round, September has been so busy that the month has flown by. I was lucky enough to travel to Gothenburg for the FEI earlier this month to help cover the FEI European Driving, Para Dressage, Dressage and Showjumping Championships. To say Gothenburg knows how to hold a Championship would be an understatement – it was phenomenal! From the driving marathon where 35,000 people came out to support the drivers, to witnessing the magnificence of Isabel Werth, to watching Peder Fredricson become FEI European Champion in front of his home crowd – just WOW!
I have been getting to spend a lot of time training with my horses which has been great and I recently returned from judging my first ever competition in Oslo, Norway which was a surreal experience. It was strange to be on the other side of the table, but also invaluable to look at the sport from a judge's point of view – so important especially when you are a coach. To say I am more than ready for HOYS now would be an understatement I need my next equestrian fix!
With 2 weeks to go until #HOYS2017, here are my top 10 things I am most looking forward to about HOYS this year:
1) The atmosphere
Whenever I am at HOYS I feel part of a much bigger experience, whether that is cheering on competitors as part of the crowd or chatting to people round the tradestands, the atmosphere is second to none.
2) The Naylors Equestrian Puissance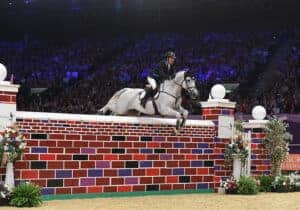 I have made no secret of my love of this competition and if we are talking about atmosphere, Saturday night at Horse of the Year Show is the next level of excitement! Who can hold their nerve and make it over the imposing wall? Will the bricks stay in place or will the slightest clip send the wall tumbling? I cannot wait. Last year's winner Holly Smith is back to defend her title despite a horrendous fall in February where Holly broke her leg and was left unable to ride. In true style, Holly is back in the saddle and ready for the challenge. Bring it on!
3) The horses
Every year I am left in awe by the beautiful horses of all different breeds, shapes, sizes and ages and this year I suspect will be no different. They are all impeccably turned out and adored by their riders – definitely a highlight in my eyes.
4) The talent
Whether it's showing, showjumping or dressage I cannot wait to watch an array of top class Equestrian talent. The only thing I am going to need to work on before I go is planning to make sure I can watch as many classes as possible. I am sure my step count for the week will be high as I navigate my way between the TopSpec Arena and the Andrews Bowen International Arena.
5) Shopping, shopping & more shopping
I really need to get saving. I already have a list of things that I want to purchase at the show this year and that is before I even get round to the inevitable impulse buys. Already on my list is; hoof ointment, a new riding jacket, potentially a new hat and that's before I even get started on the HOYS merchandise and I know as soon as I get there I will get distracted by the bling and I will probably end up getting my horse Billy a new brow band – he has definitely earned it this season. So I have two weeks of saving left – I think I can manage that…
6) The HOYS Live Zone
I am so excited for the new HOYS Live Zone this year, there will be so much gping on which people can get involved in. I will be giving a presentation in the HOYS Live Zone on Friday morning at 11am on 'Preparing Your Horse For Competition and Keeping Them In Competition Fitness'. If you are about in the Retail Village on Friday then come and check it out. I would love to meet as many people as possible and share some of the experiences I have had with my own horses over the years.
7) Incredible displays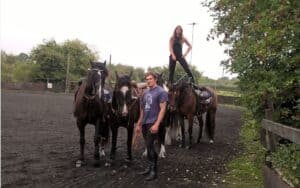 Atkinson Action Horses: Since my visit, I have become a women obsessed with wanting to try new tricks and reading as much as I can especially about liberty training and trying to put it into practise – I am not sure how impressed my horses are with me though. I cannot for their show after hearing their music choices and what they have planned; it will be a showstopper.
Caspian Horses: I am so excited to watch The Story of the Caspian Horse, these incredible horses are absolutely stunning and as I haven't had a sneak peek into training yet I am so excited to see their display, it will be a real surprise.
8) HOYS Classics
I have spoken so much of my love for Pony Club Mounted Games and Scurry Driving but they are a major factor in what makes HOYS so enjoyable and special for me. Every year I get completely transfixed by them and carried away with the competitiveness and team spirit of both events.
9) Wocket Woy & The Pwoducer
I have been dying with laughter watching their videos on the HOYS social media channels and I cannot wait to see what they come up with at HOYS this year. They will be there on the Sunday for a 'Meet & Gweet' so make sure you're there to grab a selfie with them.
10) Ready to Rock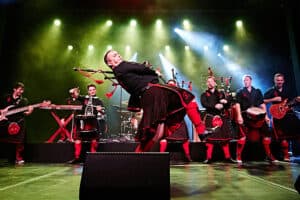 I am 100% ready to be rocked by the Red Hot Chilli Pipers – what a finale act for Horse of the Year Show this year. I have no doubt they will have the audience on their feet dancing, singing and having the time of their life. I had a great time when I went to meet them and watch them perform at Newport Show this summer, I can't wait to see them bring the HOYS audience to their feet.
See you all at HOYS!
Hannah Eccles
HOYS Ambassador