Lorenzo, "The Flying Frenchman"
The equestrian acrobat whose real name is Laurent Serre, is set to thrill audiences throughout the week of HOYS with his daredevil stunts consisting of jumping over jumps and gliding through obstacles all whilst standing poker straight on the backs of two horses. His strength, balance and communication with his horses are astonishing and the relationship he has built with his horses is mesmerising. The display will showcase up to twelve bareback horses that ride alongside him in the Andrews Bowen International Arena and there will be several surprises in store.
Read More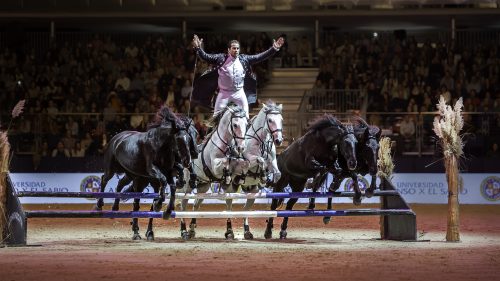 Mélie Philippot's "My Little Sister'"
We are proud to announce that French performer Mélie Philippot and her dancing duo (Quizas and Diego) will be making her UK debut at Horse of the Year Show 2019 with the display 'My little sister'. Trainer Mélie combines liberty work and dressage movements with a little light comedy in this thoroughly entertaining performance; a perfect interlude to the nail-biting competition! Mélie first came to fame with her pony Luma who did a display disguised as a lion as seen at HOYS 2013; with his incredible charisma and great talent, Mélie had trained Luma to do a range of tricks and stunts which saw them perform to international audiences around the world. Diego who will feature in the display at HOYS 2019, is Luma's son and has inherited his 'showman appeal'.
Read More
Unmissable Masterclasses for 2019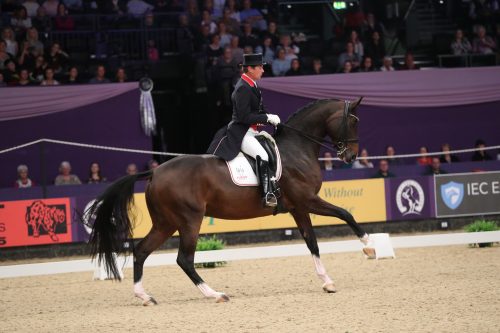 Dressage Masterclass with Emile Faurie
Emile Faurie is set to inspire the HOYS audience on Dressage Thursday as he hosts The Dressage Masterclass at Horse of the Year Show for the very first time. "For the masterclass I will be bringing three young horses from Germany from the Performance Sales International who I work for; they will demonstrate exactly what it is we look for in a world class dressage horses and I will talk through how we start them out in their training. Then in the second half, Tom [Goode] will ride Dior who is enjoying his first season at Grand Prix level this year, so they will demonstrate the higher level movements and show the levels of progression through to the finished product."
Read More
---
Showjumping Masterclass with Graham Fletcher & Family
New for 2019, The Fletcher Family is set to host a Showjumping Masterclass on Wednesday afternoon in the Andrews Bowen International Arena. Visitors will be treated to a demonstration from not one, not two, but four showjumping talents in the form of the Fletcher family. Graham and Tina Fletcher will be directing the Masterclass from the ground, with their youngest son Olli Fletcher and special guest Lila Bremner demonstrating a mix of exercises for all different levels on board their talented horses. In addition, the Fletcher family will also be joined in the arena by impressionist and comedian Rory Bremner.
Read More
---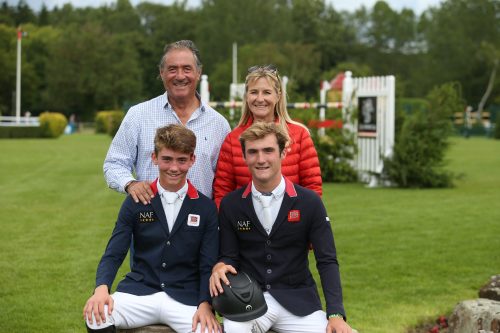 Saturday Evening Puissance
Gala Evening Finale including 'Celebrating our Racing Heroes'
HOYS Live Zone
2019 key highlights are well-known bloggers like Kate Lewis (@blobthecob), meet and greets with top riders, expert talks by Olympians and popular equestrian stars as well as informative sessions with a variety of equine specialists.
More guests to be announced shortly. Check back for updates or follow us on Facebook.
Meet The Horses
In between watching some of the most talented horses and ponies in the country compete, you can visit the Meet the Horses Zone where you can meet different horse breeds and types as well as find out about their history. The Meet the Horses Zone is located in the Retail Village.
Societies and Seating  Zone
Don't forget to stop by the societies and seating zone to as ask questions and learn about the different organisations.