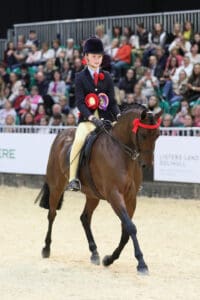 Grandstand Media are delighted to announce that Roseberry Stud will be returning as title sponsors for the Partbred Pony of the Year Championship at Horse of the Year Show 2021.
Owners Susie Hinchliffe and daughter Tammy Heathcote have extended their support of the showing community by continuing their role of class sponsors for another year. Roseberry Stud are a stud located in Derbyshire and breeders of top-quality show ponies, show hunter ponies, show riding types and Welsh Section Bs. They have over 30 years breeding experience, including many champions in-hand and ridden at county show level and Horse of the Year Show.
The Roseberry Stud Ridden Partbred Pony of the Year Championship title was taken by Drakemyre Puttin on the Ritz in 2019.
Tammy Heathcote of Roseberry Stud commented; "Sponsoring HOYS means a lot to us, it's such a prestigious show, and one that we have competed at since 1996. It has been a great pleasure to watch it grow over the years into the fantastic event that it is today. Plus, it gives us an opportunity to give something back into showing."
Event Director, Emma Williams, commented: "After years of breeding Horse of the Show quality ponies, we are thrilled to have Roseberry Stud on board supporting the show as a Championship sponsor. The support from individuals, families and companies of the showing community has been outstanding over the years and provides promise for the future of the discipline."
Save the date from Wednesday 6th to Sunday 10th October as Horse of the Year Show returns to NEC Birmingham.
Tickets are on sale now at https://hoys.co.uk/tickets
For a full timetable of events https://hoys.co.uk/timetable
For more information on Horse of the Year Show 2021 please contact Horse of the Year Show Press Office, Grandstand Media Ltd. Tel: 02476 858205. Email: press@hoys.co.uk
Image Credit: 1st Class Images