6 weeks to go until HOYS…….I can't believe that it is so close! Where has the year gone?
It has been
an extremely busy month.  It all started with our FEI European Senior & World Junior Vaulting Championships in Austria.  Normally we always take our horses out to competitions in our own lorry but as we were only taking one horse this year he travelled with other British horses on the Eric Gillie lorry – and they couldn't have taken better care of him.  It was a very strange experience flying out and meeting Tylers Kernel (Tyke) there.  I travelled to the competition with Joey (who was also lungeing), Kerri our junior individual, Rebecca senior individual and Lisa who together with Rebecca competed in the Pas De Deux.
Tyke looked great, he had travelled extremely well out to Austria, he passed the trot up and it was onto the start of the competition.  The venue at the Magna Racino is beautiful it has everything that makes for a great Championships.  The only thing is that it was extremely hot…extreme heat isn't something that we are used to in central Scotland. The final training went really well and we had a good showing in compulsories.  Unfortunately on the freestyle day for Kerri, Tyke was unsettled.  He is an incredible horse, however, sometimes in heat he gets uncomfortable and decides he isn't playing.  Despite our best attempts to keep him cool it wasn't the round that we had hoped for.  Over the next two days we made some changes to our warm-up routine with Tyke which made a huge difference. The important thing is learning to adapt and try where possible to understand why your horse isn't happy and making the necessary changes.
The second round Pas De Deux performance went really well and after only putting the pair together a few weeks before the competition they finished in 7th place in Europe a great achievement.  Sometimes competitions don't go quite as you planned but it is all experience and it was amazing to be out there as part of Team GB. Tyke is so special to us not only is he a huge part of our family but he is the only British horse to win a junior European medal.  It just goes to show that no matter how prepared you can feel, it is a horse sport and they are the most vital part of the performance.
At the weekend in Austria I was covering the championships for the FEI on social media & writing stories for the website.  I love being able to write about equestrian sports – something that I am so passionate about.  Whilst it was a busy weekend it is great to meet new people and see vaulting from a different angle.  We were treated to some incredible performances and if you get a chance, YouTube FEI Vaulting 2017 and check out some of the winning freestyles.  I guarantee you will be amazed!
Off to the British Showjumping National Championships & Stoneleigh Horse Show
After flying back from Austria it was a quick five hour turn around before I headed straight down to Warwickshire for the British Showjumping National Championships & Stoneleigh Horse Show.  It was great to see everyone from the Grandstand Media team and I was so excited to watch the Showjumping and Showing.  It was a great few days – a brilliant atmosphere, a range of trade stands and unbelievable talent on display from all ages.  One of my favourite parts is the speed with which children go round the showjumps with their ponies – it is a spectacle.  Check out my last two blogs for a roundup of the showjumping classes at BSNC where I speak to some of the lucky riders who have qualified for HOYS.
On the road to Pitlochry in Scotland for my sister's wedding……..
Unfortunately I was unable to watch the weekend showing classes at Stoneleigh Horses Show as after lunch on the Friday it was straight into my car and on the road to Pitlochry in Scotland for my sister's wedding.
I had planned to stop in at home and pick up some things but I hadn't quite factored in how busy the roads would be and despite my best efforts I actually missed the wedding rehearsal in the church – thank you to my brother's girlfriend Lorna who pretended to be me – much appreciated!  Although I am sure the minister must have wondered how I changed my hair colour from blonde to dark brown in 24 hours.
The wedding day itself was incredible.  We went clay pigeon shooting in the morning then quickly got our hair done and put our dresses on.  My sister Joanne was the most beautiful bride and watching her and Fraser get married was amazing.  We then headed back to Atholl Palace for the reception.  It was lovely to see Joey and Fraser having the time of their lives and it was also great to catch up with so many old friends from near and far.  The evening included amazing food and a lot of dancing – I still have bruises on my arms from the ceilidh!  It was just the best day and finished off with a meteor shower – how did they manage to plan that one? To say that it was a special day would be an understatement.
Unfortunately we couldn't make it work to have our horses at the wedding so the next day it was straight back to the farm for a second celebration.  All of our horses are such a big part of our family.  W.H.Bentley who we have had since he was 5 and he is 23 now, together he and Joanne have achieved so much, so we had to get photos taken with him too – to commemorate the occasion.  I didn't quite expect to have Joey vaulting in her wedding dress doing pairs with Fraser in his kilt – it was great to see and people driving past were slowing down – I don't think they could quite believe their eyes. 
Time for some R&R……..and coaching 
After a hectic few weeks it was great to have some time for rest and relaxation and get back into coaching and training with our horses.  Spending some much needed quality with my horse Billy, who because I have been away so much recently, I have really missed working with.  We are two peas in a pod.  After a couple of extra vaulting sessions with two young girls Katie & Sally from our club I was left gobsmacked! They were performing some of the hardest moves on Billy and making them look easy – I could not be more excited to see how our vaulters progress in the future.
Behind the scenes with Atkinson Action Horses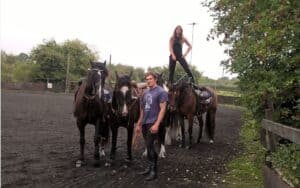 This week I headed down to visit Atkinson Action Horses and met Ben and Kat who will be part of the LIMITLESS display at HOYS. Wow…I don't really have the words to describe how amazed I was at their horsemanship, skills and versatility over multiple equestrian disciplines.  We heard about their plans for their display and listened to their music choices, all I can say is one thing; this display will be a SHOWSTOPPER and it will have everything you could possibly want – Roman Riding, Trick Riding over jumps, Liberty riding & Spanish dressage!
I was a little bit star struck as well getting introduced to their famous horses who are part of Poldark and Victoria.  My only mistake was not bringing a horse lorry down in order to try and sneak some of their horses home with me.  After seeing some of the incredible skills Ben and Kat have, I want to apologise to my horses – I am definitely going to be trying some new things even though I doubt I will be successful, it could be entertaining! There might need to be security at HOYS to keep me away from trying to be a part of their show.
Check out the full video here
So, just 6 weeks to go……..my next blog I will be counting down some of my favourite moments and visits from the year and what I most looking forward to from #HOYS2017!
Until then, enjoy your horses.
Hannah Eccles
HOYS Ambassador