Highlights & Displays
Atkinson Action Horses Presents LIMITLESS
---
LIMITLESS is a never-seen-before equestrian extravaganza brought to you by Atkinson Action Horses combining both stunt riding and liberty work. With an exciting and theatrical performance, the Atkinsons team will perform LIMITLESS showcasing stunts as seen in the movies with a range of captivating contemporary equestrian skill to wow every spectator in the arena. The company is owned and run by the Atkinson family, who have devoted the past 20 years to providing highly trained horses and riders for film, television and live events. A far cry from the local historical pageants where they began, the Atkinson family now supply horses and riders for popular dramas such as Poldark, Peaky Blinders and Victoria. Spending the summer months performing at county shows up and down the country as well as jetting off around the world to offer their expertise to the Bollywood film industry and the Royal Equestrian Club of Dubai. Atkinson's Action Horses wowed the crowds in 2012 where they performed The Final Charge. This year they promise to thrill, excite and astonish audiences with high energy, breathtaking and death defying stunts; you won't want to miss this piece of Horse of the Year Show drama.
The Story of The Caspian Horse
---
Be taken back through time to 1965 when one of the oldest horse breeds on Earth, the hardy yet graceful and distinctively petite Caspian Horse, was rediscovered in northern Iran. The Caspian is an ancient breed of small horse, believed extinct for 1,000 years until their rediscovery. The display will tell the story of how the breed has developed into an all-round breed, excelling in numerous disciplines thanks to their spectacular action, agility and speed. With demonstrations such as polo, horse-back archery, side saddle and driving, it will be an insightful demonstration of how fun and talented these rare breed horses can be.
Caspians are known for their good temperaments and 'horse-like' personalities, as well as their elegant proportions, movement and conformation. Despite their height, Caspians are known as horses rather than ponies, this is due to their bone structure and characteristics. With their comfortably narrow conformation, Caspians make excellent children's mounts. Sensible but active and very willing, they can be impressive in mounted games, gymkhana and pony racing. In harness they make smart, responsive light driving ponies, which have successfully competed in national scurry and cross-country obstacle driving. Caspians have been driven in singles, pairs, tandems and teams and are always eye-catching!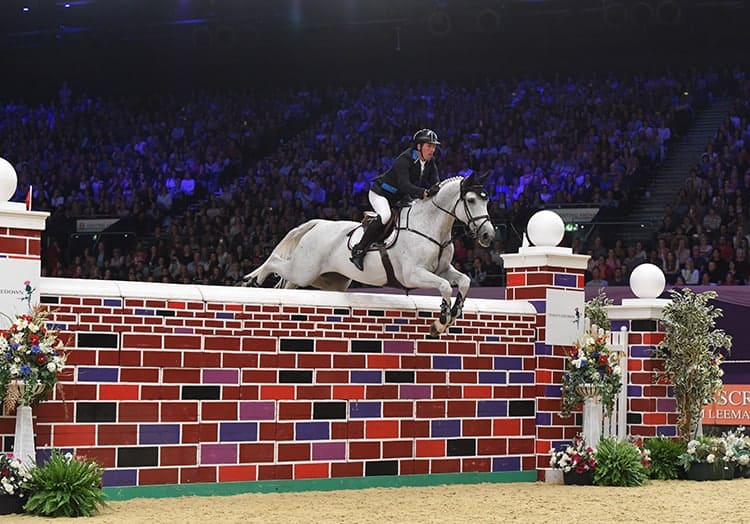 Naylors Equestrian Puissance
---
Saturday's evening performance needs no introduction, an aura of tension and excitement will descend upon the Andrews Bowen International Arena as the crowds eagerly anticipate the notorious Puissance. This year under new sponsorship from Naylors Equestrian, the Puissance creates the ultimate test for both horse and rider, as they work together to push their limits and conquer the towering red wall.
Stephanie Mann, Marketing Manager at Naylors Equestrian, said: "We are very excited to announce our sponsorship of the Naylors Equestrian Puissance for HOYS 2017. This is a great opportunity to support, celebrate and showcase equestrianism at its best. 2017 will be our fifth year of support for such a fantastic and unmissable horse event; it really is a must see for every equestrian enthusiast. The very best of luck to all competitors hoping to qualify throughout the year, we will see you all in October. Bring on the wall"
Dressage Masterclass with Charlotte Dujardin
This year's Dressage Masterclass will be delivered to you by none other than the two time Olympic Gold medallist herself, Charlotte Dujardin. Who else better to learn from than a lady who has worked her way up from working as a groom to becoming an international dressage superstar, breaking world records and inspiring riders across the globe? Visitors can watch Charlotte's Dressage Masterclass on Thursday 5th October, where it will be held in the Andrews Bowen International Arena. Charlotte will put the riders through their paces whilst sharing some invaluable training tips and competition advice.
At HOYS 2016 Charlotte turned back the clock as she returned to the Horse of the Year Show in winning fashion. Charlotte, riding Hawtins Delicato, landed the Arbonne Dressage Future Elite Championship title on a score of 78.62%, thrilling a bumper Friday night crowd in the process. It evoked fond memories for the London 2012 and Rio 2016 Olympic gold medallist, who was highly successful in showing before she moved into dressage and won at the Horse of the Year Show.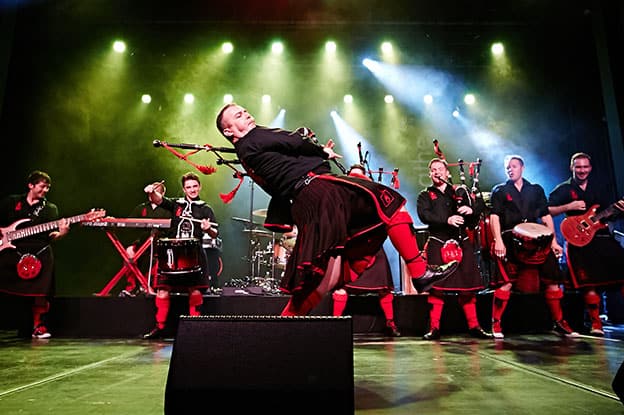 Red Hot Chilli Pipers
---
The most famous bagpipe band on the planet will be joining "The World's Most Famous Horse Show" in the Sunday Gala Evening Performance. Bagpipes with attitude, drums with a Scottish accent and a show so hot it carries its own health warning, the Red Hot Chilli Pipers will play their way into the evening as another fabulous Horse of the Year Show comes to a close. The band have an incredible following and are sure to have everyone up in their seats with their groundbreaking fusion of traditional Scottish music and rock/pop anthems which they proudly call 'Bagrock'.

HOYS Live Zone and Rider Signings
A new addition to HOYS this year will be the HOYS Live Zone which will be located in the Retail Village. The new staged area will incorporate a fabulous line up of guest speakers, interactive sessions, celebrity rider signings and talks from leading industry experts providing visitors with the opportunity to get more involved than ever before. From Equestrian Pilates, Sports Therapists, Vets and Equine Nutritionists to a very special guest appearance from the comedy duo and internet sensation Wocket Woy & the Pwoducer who will be at the show on Sunday, there is something for everyone.
We have also teamed up with some of our generous tradestands to bring you the opportunity to win a goodie-bag full of prizes! The competition: 'Who can put the bridle back together in the fastest time?' – so if you consider yourself an expert then get involved and you could be a winner. Participants will be selected from the audience at the HOYS Live Zone Stage and five competitors will be put forward each day. Those who put the bridle back together the quickest will win the goodie-bag which includes the following items: Aztec Diamond Equestrian Hoodie, Berber Leather travel pouch, a Joules keyring, Soxtrot socks, Olvossa Ltd belt and a HOYS polo shirt. Bridles are kindly donated by English Bridles.
There are now even more reasons to get your ticket for Horse of the Year Show 2017! See the timetable below and plan your visit today!
Book Tickets
Meet The Horses
In between watching some of the most talented horses and ponies in the country compete, you can visit the Meet the Horses Zone where you can meet different horse breeds and types as well as find out about their history. The Meet the Horses Zone is located in the Retail Village.
This year, the five breeds in the Meet the Horses area include; an Arab, a Caspian, an Eriskay, a Freisian and a Haflinger. Their relevant breed societies will also be around to tell you all about these unusual breeds.
Societies and Seating  Zone