Vote For A Qualifying Story
1. Holly Wales and Coblet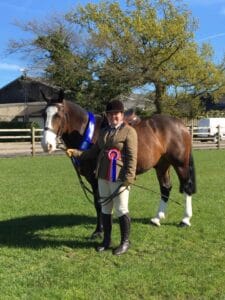 We got Coblet (AKA Billy)  in 2013 as a Mother and Daughter share, he was our first ridding horse since having stopped riding 15 years earlier, it's so true the horsey bug never leaves you!
Billy came over from Ireland as a 5 year old then he came to us a year later, we made the classic mistake of buying something we thought was pretty. The first day he arrived at Kings Acre (our small family farm in Chester) I got on in front of the stable yard and he tried to jump the red brick wall into the front garden needless to say his Irish hunting roots hadn't left him!
It was a slow start but joining our local Riding Club (Flint & Denbigh) really helped me gain confidence and slowly we started going out competing. It has always been my mums mantra to "Ride more Worry less", so this was our driving force to just keep going.
People had always commented that he was a nice stamp of a cob and that we should show him, it had always been our aim to qualify for HOYS but it often felt like a distant aspiration. Three years down the road mum had moved onto a Connie (called Biscuit)!!!
I first found out about the Search for Star classes by chance finding myself listening to the commentary of the cob class at HOYS. This was such a breath of fresh area to get an invaluable understanding of what the top class judges were looking for in terms of way of going, appearance and rideability.  I decided to enter for Search for a Star (Osbaleston on Sunday 23rd April) to gain a understanding of how we could progress and enjoy amateur showing more.
I always think everyone looks shinier, so it was an absolute shock and a unexpected moment when I heard my number "141, Coblet" being announced over the tannoy as having won the class and qualifying for the SEIB Search for a Star.
I'm really looking forward to the journey of going to HOYS and can't wait to be in the ring with coblet!
---
2. Macy Dugdale and Lokie
Macy was a late starter to riding and quickly had to progress through the ranks only spending 6 months in first ridden classes before having to move onto Open's, Macy has competed successfully in 12.2 & most recently 13.2 Show Pony Classes narrowly missing out by 1 point on their golden ticketed last year.  Macy like every other little girl dreams of qualifying and riding at HOYS and in 2016 went to HOYS for the first time as a visitor and for her to see what it's all about, Macy was totally blown away and said "I wish I could ride here next year".
Due to Macy show pony having some time off the opportunity arose for Macy to ride a new pony however having never owned or ridden a coloured yet alone anything bigger than 13.2 Macy met Lokie on a cold, wet February day and they have never looked back – the start of the most amazing partnership was beginning to form, the plan was to spend this year getting to know each other, competing in coloured classes and only doing a few HOYS qualifiers to get a feel for our competition and to see where they got placed.  We made the long drive to Derbyshire Festival which was their first ever attempt at HOYS – 22 forward and they were placed 7th Macy was over the moon, next stop was the Royal Highland Show this is one of our favourite shows, we went for the experience,  a foot perfect go around and individual show led to Macy & Lokie winning & qualifying for HOYS, I don't know who screamed more mum from the side-lines or myself when hearing our name, it is a total dream come true and something I only dared dreamed about. I am so excited about riding at HOYS October seems such a long way away, couldn't have done it without my amazing instructor James Hunton & my mum.
---
3. Becky Hedger and Just Louis II
I never meant to buy a youngster. Up to that point I'd only ever had a show jumping pony and had never done any showing. But I fell in love with Louis as soon as I met him as a two-year-old, so I decided to go for it. A couple of my friends had known him since a foal, describing him as 'a piece of cheese on a cocktail stick – all head and no body'!  But he quickly grew into his frame and started to blossom.
I didn't have any particular plans for him, I just wanted to have some fun. We did a few in-hand showing classes before turning him away to grow. And grow he certainly did! When it came to backing him at three, he was 16hh and almost as wide, so the prospect of sitting on him was a bit daunting.  I must admit, after being bucked off a few times, I was starting to wonder what I had done, but with the help of my friends I persevered and things starting to click into place.
Although he's a fantastic allrounder, it became clear he was destined for the show ring. His first experience of a ridden class was as a four-year-old at Equifest last year, with nearly 30 horses in the ring, and he was an absolute angel.  He's been to a couple of county shows where he has done really well, including winning the Irish Draft class at Suffolk and taking Reserve Champion.
It wasn't until I went for a lesson with Jo Bates a few months ago, that I had even contemplated doing Search for a Star. But she encouraged us to enter the Show Hunter qualifier, and to my delight we qualified at our first attempt. I haven't stopped smiling since!
I continue to juggle riding around my busy full-time job, but having HOYS to look forward to certainly makes all those 5am starts worth it. I still can't believe it's actually happening! I'm really excited, but most of all I'm just incredibly proud of him!
---
4. Iysha Pitman and Bybeck Kasper
After having an amazing start to the season with my 3 ponies, I won Royal Windsor with my 3 year old fell colt Bracklinn Travis I couldn't get the smile off my face. Tragically I lost my Section C Glebedale Dexter to colic very suddenly 2 weeks later and I couldn't get that smile back, I was absolutely devastated. The bad luck carried on and I didn't think things would get better. I spent my evenings taking Kasper on long hacks so I didn't have to sit at home and think about everything. Me & my mum set off to Three Counties not feeling very hopeful as Kasper wasn't his usual self at Derbyshire festival a matter of days before. I saw on Facebook on route it was quite a hard set show with a canter serpentine and a rein back which sent me into panic mode as I had never even practiced a rein back. I just went in the ring with a smile on my face like always. He went well and after being pulled second I felt sick. The show went as planned but the top pony went perfect as well. Not one part of me thought I was going to win. Carey Knox came into the ring and she started reading my number out. I just couldn't believe it. It took me 10 seconds to come forward. I just burst into tears and couldn't stop. Then I had to go straight in the championship to come reserve champion in a class full of amazing ponies just topped it off. Even the judges said I had them choked up. Dexter was definitely looking down on us that day. Him & Kasper were best friends who used to spend their days licking each other through the bars in their stables. I have spent about 10 years dreaming of that moment. It's both mine and Kaspers first time at hoys. He's the ultimate pony of a lifetime.
---
5.  Kirstie Wright and Mill House Adimo Pectore
My HOYS story started 9 years ago on a chilly April night as I helped my mare deliver her only foal. In honesty, I spent the first few weeks watching this funny little creature who moved in a very strange way wondering if he was normal as he was different to other foals. Truth is that with time I came to realise that "Mo" definitely isn't normal, he is so much better than normal! His name was chosen before he even arrived and it was decided that he would be called Mill House Adimo Pectore which means from the heart, and "Mo" for short after my recently deceased Nan. "Mo" had a difficult start in life, not only did he require a plasma transfusion after birth, but he also managed to lose a fight with a wheelbarrow resulting in many stitches and then develop peritonitis during his gelding! Luckily as he grew up he left his bad luck behind and has become the most wonderful horse to ride and compete and we have had fun not only showing but also doing dressage and most recently British Eventing. So back to the exciting part. On a rainy windy and generally disgusting Wednesday morning we headed to Bakewell show. The going could only be described as best suited to a seasoned hunter and finishing with all shoes still attached appeared to be an achievement in itself! We finished the initial go round with three and a half shoes, but luckily the twisted shoe was causing him little difficulty in the bottomless going so we allowed the judge to ride. "Mo" has always been a consistent horse for the ride judge and as usual he trotted off and gave the judge what appeared to be a lovely ride. Before long we were waiting for the results and then it finally happened, after 2 years of trying they finally called out our number first! What followed was floods of tears from not only me but my mum and friends also! So here's to making more memories, Thank you MO! (Photo courtesy of EMMPIX)
---
6.  Helen Hughes and Ruxton Contessa
I had Tess on loan fr
om March 2016 and our partnership bonded straight away. In January 2017 we purchased Tess and she has a home for life with us.Having been competing and have lots of success qualifying for various finals we decided to aim at the Bronze League Semi-Final to finish within top 15 within South West Region. We finished 4th in our league qualifying use for the Semi-Finals in August at Keysoe. An early start heading to Keysoe for qualifier. With three rounds to jump and hoping we jump clear every round. We made it through to the third round with 11 other riders after watching some my decision was to go for a clear but to also push in between which paid off and we jumped a triple clear to finish 5th and qualify for HOYS, coming out the ring knowing I have qualified I had tears in my eyes. I have been aiming to qualify for HOYS since I started competing British Showjumping from the age of 12 years. It may have taken me 25 years but I have finally done it. I juggle doing my horses along with bringing up 3 boys and working part time around the horses and when my children are at School. I have lots of help and support from my family who are just as excited as I am qualifying for HOYS. I cannot wait for my day to come and be in the amazing arena and what happens on the day will be fantastic as it is something I have always dreamed about qualifying for.
---
7. Amy Basnett and Rascality
My name is Amy Basnett, I qualified for hoys on the 25th August at BSPS Summer Championships. We bought Rascality (Yogi) in 2014, unfortunately did not get out to often in the first season. Neither Yogi nor myself had done WH classes at competitive levels before, we struggled to go round clear, earning the nick name from my dad (groom), Amy (one pole) Basnett. We started then to have Lessons with Mr Adrian Marsh (A tough but good teacher). During 2016 we steadily improved with my fist clear at the end of the season.
The 2017 season started and the pressure for me was real as this was to be my last year with Yogi as I was now 25! We started out well and I qualified Yogi at BSPS 1A for the RIHS Intermediate working hunter ponies. Yea!!
We then went to Rutland to compete in the horse workers just to keep him going ready for the unbelievable trip to Hickstead. We had done a few horse classes never placed anywhere possible due Pony Vs Horse. Rutland was a very tough course but I managed the best jump round and to get an unbelievable second ticket to the 2017 RIHS in the lightweight horse class.
We then started the 2017  HOYS qualifiers. At this point my nick name returned (one pole). At RIHS and went round the horse class but no placing, I gained 8th in the intermediate. I was getting very emotional as the time fast approached to sell yogi. My dad had said give it one last shot what the worse that could happen? The course was brilliant, bull finch, water trays, sand bags and even a crooked ride through a pen. Enjoying the round, on landing over fence 11 I hadn't had my one pole! I gathered up Yogi, told  him "we got this" we flew over the last fence. We had done it!!  1 of 2 clears in the last HOYS qualifier. We had done all we could. . What a way to end the year.
There it was off to HOYS 3 for 3.
---
8. Tatiane Mauree and Horseabout Zibu
Boo, and I have only been together since the beginning of 2017.   Boo was bred by a family in Ireland and only did her first BS show 6months before I got her.  I am 12 and I didn't expect to qualify this year, I just wanted to jump second rounds as experience for next year.  Boo jumped triple clear in the first two Newcomers second rounds but we weren't fast enough to qualify and we didn't jump the first Foxhunter second rounds as we weren't ready.  We have had some good shows but Boo is only 7 so I didn't want to do anything to set us back.  I hoped if I just kept jumping triple clear in the Newcomers I might qualify.  When I felt I was ready I decided to have a go at the Foxhunter second round at Southview.  It was a tricky course so I just wanted to be steady and give Boo a good line into each fence.  There were 8 riders clear in the first round and I was last to go in the second round.  When it was my turn there still weren't any clears, the time was tight and some riders just had time penalties.  I was very nervous as some really good riders had not gone clear.  I tried to ride Boo just like I do when I am practicing at home and not be tense.  When I jumped the last fence I knew I hadn't had any poles down so I looked at the clock and expected to see time penalties but there weren't any and I suddenly realised I had won and qualified.  It was such a surprise.  I am so proud of Boo – she has never done anything like HOYS before so we will just try to have a good time and hopefully will get to come again in the future.  The picture was taken just after I looked at the clock and realised I had won
---
9. Felicity Baker and Alfie Moon III
Alfie Moon was 9 years old when we bought him in March 2012. My mum was looking for a new horse for me as I had outgrown my show
pony and found Alfie Moon online. When we went to see him, I fell in love with his striking markings and he was an absolute dream to ride. He came from an eventing home but hadn't been out to many competitions so was new to the world of showing. He has his little quirks but we as a family absolutely love him and he has brought us so much joy.
When my number was called out for first place and taking the qualifier at the Royal Highland Show, I couldn't believe it! The feeling was overwhelming – I was overcome with joy, elation and accomplishment. There were tears all round! This is the first time I have qualified for Horse of the Year Show, (although I have narrowly missed out a number of times on different rides). This is a dream come true, not just for me but for my family as well. We are absolutely over the moon to be going to HOYS in October!
I could not have achieved what I have without the unfaltering support of my family over the years. For many years my parents, Andy and Tricia, have supported me financially in my equestrian ventures. My twin sister Annabel has been a great support in helping out with the daily tasks of looking after the horses and accompanying us to horse shows to lend a hand. But undoubtedly, none of this would have been possible without my eldest sister Lucy. Lucy taught me how to ride on my first pony Holly, she drives the lorry to horse shows, helps with getting Alfie Moon ready for shows and grooms for me. It's a family affair!
---
10. Jennifer Hall and Griashall Lara
In 1963, I was 15 years old and finally had a pony for 2 years. That year I fell in love, as did two of my Welsh friends with Pollyanna., when she was  Supreme Ridden at HOYS. She was quite the most beautiful pony I had ever seen, even on a photograph. Thereby began my love of beautiful ponies and a wish to take my own pony to HOYS.
It is now over 50 years since then and finally, with the help of a wonderful Producer and a brilliant rider, my pony Griahall Lara had qualified for HOYS. In spot of my illness, I shall go and watch her perform under the lights.
I spent many of the in between years not being able to ride and not having a pony at all. Our children did nto wish to rider, so it was always a battle for me. Eventually when our daughters went to school, I managed to buy a lovely Sec B Mare. I went on from there, almost always on my own. Riding, breeding a little, and showing my young stock In hand. Finally, when I could afford to having a Producer to Show for me at a higher level.
I bough Griashall Lara at 5 months from a friend. She was shown successfully for 3 years in hand and then , I backed her. Lara is now 7, and had not been the easiest pony to produce to this standard, even after successful In Hand career, before being Ridden. She progressed slowly through the Ridden Classes until now, with the wonderful Producer and a brilliant young rider Lara qualified for HOYS at the Royal Welsh Show!
We have made it! My name will appear in the HOYS Catalogue as Lara's Owner, which is all I have ever wished for. It does not matter if she is last in the line up, we did it; even if it took 50 years!
---
11. Tilly Marris and Liaura Kinky Boots
After visiting Lincolnshire Show as a spectator many times I was so excited to be competing this year on my home county turf in my first ever HOYS qualifier. This was my first season with my home produced working hunter pony Liaura Kinky Boots (Lola).
Two days prior to Lincs Show, in preparation I was having a lesson with my trainer Adam Taylor.  Lola was jumping great but suddenly she lost her footing in between the double and did a "super-man" dive into the second part of the fence.  Both Lola and I crashed to the ground with me falling off and poor Lola scrambled up, her reins broken and blood coming from her mouth as she'd bitten the inside of her lip on impact.  I landed on my arm which was very painful and with my face all grazed too, both Lola and I looked a real sorry sight.
I was really sad and so disappointed as it now looked like I wouldn't now be competing at Lincs County after all, with it only being two days away.
On the day of the show my brave pony had made a great recovery though it still wasn't looking good for me as I still had my arm in a sling leading up to my class.  It was so painful but I soldiered being determined to ride, though I still didn't know if my arm would be strong enough to guide Lola around the course.
All I wanted was to try and get a clear round and I was so happy that Lola did me proud and did a lovely clear. As we went back into the arena for the presentation I was quite relieved that it was all now over as my arm was still hurting.
I wasn't sure that I would even get placed as it was a strong class with quite a few clears.
I was in total shock and couldn't believe it when my number was called out and the commentator announced that I had won my ticket to HOYS, I cried tears of joy !!!
---
12. Jo Fennell and Bantasia
I am 47 years old, I competed on ponies and was very successful but started a family and gave up leaving it to my children.  After seeing the children through ponies who were very successful, it was only when I purchased my daughters 1st horse that she started having trouble and wasn't sure if she wanted to continue and I got so frustrated that I decided to get back in the saddle myself.
So after 23 years I was back in the saddle.  It was very hard and I ached all over, I sold my daughters horse and found one that would look after me.  Unfortunately she became lame at Bishop Burton semi finals in 2016, so I made another hard decision to retire her and she too is now going to become a mom.
I then struggled to find another horse that was capable of jumping the 3 rounds required for the the Bronze Semi's, that was quiet enough for my mom to look after as I work full time and that would also look after me.  Then my cousin told me about Bantasia, so I rushed to watch her jump at Scope and thought YES she is the one.  Gemma who owned Bantasia let me have her for a couple of weeks to make sure she was fine with my mom.  Then in December 2016 I finally purchased her.  She has been an apsalute angel, if I get it wrong she just keeps going.  I love her so much…
We battled at the points and managed to come 5th! So we were off to Bishop Burton once again, and after only getting to the 2nd fence on my last horse was very anxious.  Bella was a star she just kept jumping and we were clear in round 1 and round 2   then the jump off.  I think I was about 11th to go and was very nervous,  I told my mom i was just going to go for a clear but then the person before me did that and went into 6th place, only 7 qualified  so off I went over number 1 then thought no just go for it, so I did and came 2nd.  I was so proud.  Bella "I love you".