Vote For A Qualifying Story
1. Holly Wales and Coblet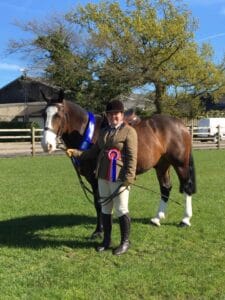 We got Coblet (AKA Billy)  in 2013 as a Mother and Daughter share, he was our first ridding horse since having stopped riding 15 years earlier, it's so true the horsey bug never leaves you!
Billy came over from Ireland as a 5 year old then he came to us a year later, we made the classic mistake of buying something we thought was pretty. The first day he arrived at Kings Acre (our small family farm in Chester) I got on in front of the stable yard and he tried to jump the red brick wall into the front garden needless to say his Irish hunting roots hadn't left him!
It was a slow start but joining our local Riding Club (Flint & Denbigh) really helped me gain confidence and slowly we started going out competing. It has always been my mums mantra to "Ride more Worry less", so this was our driving force to just keep going.
People had always commented that he was a nice stamp of a cob and that we should show him, it had always been our aim to qualify for HOYS but it often felt like a distant aspiration. Three years down the road mum had moved onto a Connie (called Biscuit)!!!
I first found out about the Search for Star classes by chance finding myself listening to the commentary of the cob class at HOYS. This was such a breath of fresh area to get an invaluable understanding of what the top class judges were looking for in terms of way of going, appearance and rideability.  I decided to enter for Search for a Star (Osbaleston on Sunday 23rd April) to gain a understanding of how we could progress and enjoy amateur showing more.
I always think everyone looks shinier, so it was an absolute shock and a unexpected moment when I heard my number "141, Coblet" being announced over the tannoy as having won the class and qualifying for the SEIB Search for a Star.
I'm really looking forward to the journey of going to HOYS and can't wait to be in the ring with coblet!
---
2. Macy Dugdale and Lokie
Macy was a late starter to riding and quickly had to progress through the ranks only spending 6 months in first ridden classes before having to move onto Open's, Macy has competed successfully in 12.2 & most recently 13.2 Show Pony Classes narrowly missing out by 1 point on their golden ticketed last year.  Macy like every other little girl dreams of qualifying and riding at HOYS and in 2016 went to HOYS for the first time as a visitor and for her to see what it's all about, Macy was totally blown away and said "I wish I could ride here next year".
Due to Macy show pony having some time off the opportunity arose for Macy to ride a new pony however having never owned or ridden a coloured yet alone anything bigger than 13.2 Macy met Lokie on a cold, wet February day and they have never looked back – the start of the most amazing partnership was beginning to form, the plan was to spend this year getting to know each other, competing in coloured classes and only doing a few HOYS qualifiers to get a feel for our competition and to see where they got placed.  We made the long drive to Derbyshire Festival which was their first ever attempt at HOYS – 22 forward and they were placed 7th Macy was over the moon, next stop was the Royal Highland Show this is one of our favourite shows, we went for the experience,  a foot perfect go around and individual show led to Macy & Lokie winning & qualifying for HOYS, I don't know who screamed more mum from the side-lines or myself when hearing our name, it is a total dream come true and something I only dared dreamed about. I am so excited about riding at HOYS October seems such a long way away, couldn't have done it without my amazing instructor James Hunton & my mum.
---
3. Becky Hedger and Just Louis II
I never meant to buy a youngster. Up to that point I'd only ever had a show jumping pony and had never done any showing. But I fell in love with Louis as soon as I met him as a two-year-old, so I decided to go for it. A couple of my friends had known him since a foal, describing him as 'a piece of cheese on a cocktail stick – all head and no body'!  But he quickly grew into his frame and started to blossom.
I didn't have any particular plans for him, I just wanted to have some fun. We did a few in-hand showing classes before turning him away to grow. And grow he certainly did! When it came to backing him at three, he was 16hh and almost as wide, so the prospect of sitting on him was a bit daunting.  I must admit, after being bucked off a few times, I was starting to wonder what I had done, but with the help of my friends I persevered and things starting to click into place.
Although he's a fantastic allrounder, it became clear he was destined for the show ring. His first experience of a ridden class was as a four-year-old at Equifest last year, with nearly 30 horses in the ring, and he was an absolute angel.  He's been to a couple of county shows where he has done really well, including winning the Irish Draft class at Suffolk and taking Reserve Champion.
It wasn't until I went for a lesson with Jo Bates a few months ago, that I had even contemplated doing Search for a Star. But she encouraged us to enter the Show Hunter qualifier, and to my delight we qualified at our first attempt. I haven't stopped smiling since!
I continue to juggle riding around my busy full-time job, but having HOYS to look forward to certainly makes all those 5am starts worth it. I still can't believe it's actually happening! I'm really excited, but most of all I'm just incredibly proud of him!
---
4. Iysha Pitman and Bybeck Kasper
After having an amazing start to the season with my 3 ponies, I won Royal Windsor with my 3 year old fell colt Bracklinn Travis I couldn't get the smile off my face. Tragically I lost my Section C Glebedale Dexter to colic very suddenly 2 weeks later and I couldn't get that smile back, I was absolutely devastated. The bad luck carried on and I didn't think things would get better. I spent my evenings taking Kasper on long hacks so I didn't have to sit at home and think about everything. Me & my mum set off to Three Counties not feeling very hopeful as Kasper wasn't his usual self at Derbyshire festival a matter of days before. I saw on Facebook on route it was quite a hard set show with a canter serpentine and a rein back which sent me into panic mode as I had never even practiced a rein back. I just went in the ring with a smile on my face like always. He went well and after being pulled second I felt sick. The show went as planned but the top pony went perfect as well. Not one part of me thought I was going to win. Carey Knox came into the ring and she started reading my number out. I just couldn't believe it. It took me 10 seconds to come forward. I just burst into tears and couldn't stop. Then I had to go straight in the championship to come reserve champion in a class full of amazing ponies just topped it off. Even the judges said I had them choked up. Dexter was definitely looking down on us that day. Him & Kasper were best friends who used to spend their days licking each other through the bars in their stables. I have spent about 10 years dreaming of that moment. It's both mine and Kaspers first time at hoys. He's the ultimate pony of a lifetime.
---
5.  Kirstie Wright and Mill House Adimo Pectore
My HOYS story started 9 years ago on a chilly April night as I helped my mare deliver her only foal. In honesty, I spent the first few weeks watching this funny little creature who moved in a very strange way wondering if he was normal as he was different to other foals. Truth is that with time I came to realise that "Mo" definitely isn't normal, he is so much better than normal! His name was chosen before he even arrived and it was decided that he would be called Mill House Adimo Pectore which means from the heart, and "Mo" for short after my recently deceased Nan. "Mo" had a difficult start in life, not only did he require a plasma transfusion after birth, but he also managed to lose a fight with a wheelbarrow resulting in many stitches and then develop peritonitis during his gelding! Luckily as he grew up he left his bad luck behind and has become the most wonderful horse to ride and compete and we have had fun not only showing but also doing dressage and most recently British Eventing. So back to the exciting part. On a rainy windy and generally disgusting Wednesday morning we headed to Bakewell show. The going could only be described as best suited to a seasoned hunter and finishing with all shoes still attached appeared to be an achievement in itself! We finished the initial go round with three and a half shoes, but luckily the twisted shoe was causing him little difficulty in the bottomless going so we allowed the judge to ride. "Mo" has always been a consistent horse for the ride judge and as usual he trotted off and gave the judge what appeared to be a lovely ride. Before long we were waiting for the results and then it finally happened, after 2 years of trying they finally called out our number first! What followed was floods of tears from not only me but my mum and friends also! So here's to making more memories, Thank you MO! (Photo courtesy of EMMPIX)