Vote For A Qualifying Story
1. Holly Wales and Coblet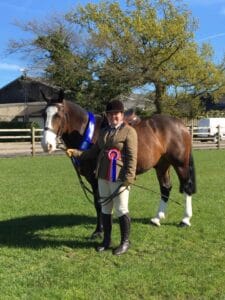 We got Coblet (AKA Billy)  in 2013 as a Mother and Daughter share, he was our first ridding horse since having stopped riding 15 years earlier, it's so true the horsey bug never leaves you!
Billy came over from Ireland as a 5 year old then he came to us a year later, we made the classic mistake of buying something we thought was pretty. The first day he arrived at Kings Acre (our small family farm in Chester) I got on in front of the stable yard and he tried to jump the red brick wall into the front garden needless to say his Irish hunting roots hadn't left him!
It was a slow start but joining our local Riding Club (Flint & Denbigh) really helped me gain confidence and slowly we started going out competing. It has always been my mums mantra to "Ride more Worry less", so this was our driving force to just keep going.
People had always commented that he was a nice stamp of a cob and that we should show him, it had always been our aim to qualify for HOYS but it often felt like a distant aspiration. Three years down the road mum had moved onto a Connie (called Biscuit)!!!
I first found out about the Search for Star classes by chance finding myself listening to the commentary of the cob class at HOYS. This was such a breath of fresh area to get an invaluable understanding of what the top class judges were looking for in terms of way of going, appearance and rideability.  I decided to enter for Search for a Star (Osbaleston on Sunday 23rd April) to gain a understanding of how we could progress and enjoy amateur showing more.
I always think everyone looks shinier, so it was an absolute shock and a unexpected moment when I heard my number "141, Coblet" being announced over the tannoy as having won the class and qualifying for the SEIB Search for a Star.
I'm really looking forward to the journey of going to HOYS and can't wait to be in the ring with coblet!