Don't miss Thursday Dressage Day at HOYS 2017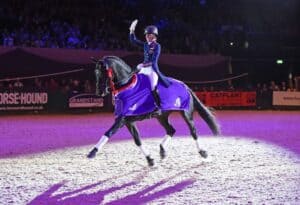 This year sees the return of the fifth annual Dressage Future Elite Championship to Horse of the Year Show (HOYS) on Thursday 5th October. The class showcases Britain's rising young dressage stars by offering horses aged eight to ten years, who are working at Intermediate I level, a Championship class in an International setting. In 2016, the title was won by Olympic Gold Medallist Charlotte Dujardin riding Hawtins Delicato who scored an incredible 78.62%.
"It is a privilege to be here riding," she said. "There are lots of childhood memories for me being here, with competing in showing classes and winning a couple of times. Going into the main arena under the spotlight was always every girl's dream, so to come here and ride here again, to win and go and then do it all again with the presentation was brilliant. It was so much fun."
Riders and owners agree that the competition offers a priceless opportunity for up and coming equine stars to experience an international show atmosphere on British shores. With the sport of dressage on the rise the Dressage Future Elite Championship offers riders, competitors and spectators the unique opportunity to witness some of the UK's dressage stars of the future.
---
How To Qualify
---
To qualify for the Dressage Future Elite Championship in 2017, combinations scores in Prix St Georges and Intermediate I competitions at Premier League, High Profile and British-based CDI shows will be used to determine four of the places on offer. The average of their three best scores will be used to give an overall percentage, with those gaining the highest overall percentage securing places.
The leader board showing those combinations in the running for a place in the Dressage Future Elite Championship will be available on the British Dressage website and will be regularly updated. Please click here for the rider ranking list.
In addition to the 4 qualifying places, a further four places will be offered as invitations, the recipients of which will be determined by HOYS and British Dressage's senior selection committee.
---
The Premier Leauges

Myerscough College
Lancs
1 – 5 Mar
Keysoe
Beds
28 – 30 Apr
Addington Manor EC
Bucks
12- 14 May
Somerford Park
Cheshire
27 – 29 May
Wellington Riding
Hants
8-11 June
Sheepgate
Lincs
19 – 20 Jun
Hickstead
Sussex
20-24 Jun
Hartpury
Glos
4-9 Jul

CDI & CPEDI

CDI3* CDIYJP, Keysoe (ST&BT)
Beds
17 – 19 Mar
CPEDI/CDI 3*, Hartpury (ST & BT)
Glos
5 – 9 July
CDI 5* & CDIO, Hickstead (ST & BT)
Sussex
27-30 July

High Profile Shows

Addington High Profile Show
Bucks
13 – 15 Jan
Bury Farm High Profile Show
Bucks
25 – 2 Aug
For more information please contact the Equestrian Team on 02476 858 205 or email entries@hoys.co.uk.