For the past few weeks there has been building anticipation and excitement at the prospect that, once again, it was almost time for the Horse of The Year Show.  The sheer thought of the show has made it almost impossible to focus on day to day tasks recently.
On Tuesday as I made my way down the road – after a rapid turnaround after the Longines FEI Nations Cup final in Barcelona – I reflected on what has been an incredible year, a year that has gone unbelievably fast.
As is the norm with Horse of the Year Show we hit the ground running on Wednesday morning and I was introduced to Display Media who will be doing the live coverage of the event – it was discussed that I would work with them throughout the show.
I start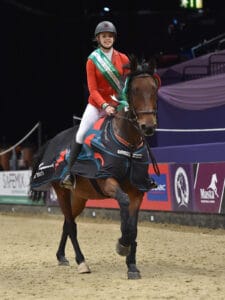 ed by interviewing Abbi Jackson the winner of the Horseware Bronze League Championships and Emma Sargeant the Silver League Championships winner.  It was great to hear their qualifying stories and how much it meant to them to compete at HOYS and put on such stunning performances on the biggest stage – they were both bubbling with infectious excitement.  I love hearing everyone's unique, individual stories of how they achieved such successes and how much their beautiful horses mean to them – truly inspiring and a great way to get the Horse of the Year Show action underway.
The new Live Zone at Horse of the Year Show is a really exciting new addition.  There are a host of great talks being delivered throughout the week at HOYS.  I was lucky enough to have a chance to talk with Sue Gould-Wright before she took to the stage for her presentation on Equine Pilates.  It was great to discuss the benefits and hear about the work she does with riders and vaulters.  It turns out by sheer coincidence that we had both been giving clinics at the same vaulting camp last year – It's a small world. I am already thinking of ways I can get Sue up to work with my club.  Her presentation went down a treat, not only was it extremely informative, but It was also interactive and delivered with a great light hearted humour. I would recommend this talk and the Live Zone to anyone heading to HOYS in the next few days.  I will definitely be checking out more presentations as the week progresses.
The atmosphere in the TopSpec Arena is always unique and exceptional. I love the atmosphere and the incredible showing talent.  I was only able to catch the Equissage Pulse Ridden PartBred Pony of the Year where I saw Phoebe Price & Litton Enterprise win, but I am really looking forward to spending more time in the TopSpec Arena.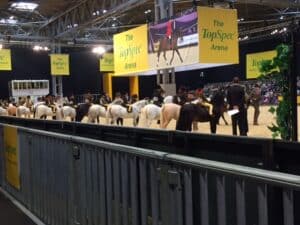 Yes!!…The 3D Virbac Pony Club Mounted games is back.  Can you tell I am a little excited for this…? It always a highlight, always great to watch.  It was lovely to see North Herefordshire make their debut at HOYS.  Good Luck to all the competitors – I look forward to following this competition throughout the week – sat on the edge of my seat, left in awe at the sheer speed of the ponies and the rider's nerves of steel.
The day turned out to be action packed – I am glad I had my flat shoes on as my step count has shot up to a level only appropriate in HOYS week – before I knew it, it was time for the evening performances.  It was straight to the studio for a live opening link to introduce the action. Sometimes I feel the need to pinch myself and ask is this all really real?  In 2014 & 2015 I was just delighted to be part of the display and now I am part of the HOYS family – how did I get this lucky?
I have been fortunate throughout this year to do live commentary for vaulting and to report on jumping, driving & dressage.  However, when I was first asked to commentate on the two evening jumping classes – I was a little apprehensive. Whilst I have trained in various Equestrian disciplines my main sport was always vaulting.  It was a huge honour to be asked and I realised one major thing, I am a super fan of all Equestrian disciplines and I have followed them for years – to have the honour to sit and chat about sport which I adore is a massive privilege.
Every year at HOYS I am treated to new experiences and that I could not be more thankful for.  I want to say a massive thank you to commentator Gareth for the reassurance and help – I couldn't think of anyone better to sit down for a 'chat' with whilst watching top class jumping.
I had invested interest in the Connolly's Red Mills Senior Newcomers Championships after visiting a round two qualifier at the Scottish Summer Extravaganza earlier this year. I have been following the series closely ever since and I couldn't wait to see the climax of the series here at HOYS. The course proved technical and came down to an epic head to head battle between Nicole Pavitt & Adam Botham with Nicole and HC Cornet withstanding the pressure to produce a clear round in the jump off and come away with the title.
The second – much anticipated – jumping event of the evening the Talent Seekers inc. 7 year old Championships saw incredible talent with Chloe Winchester and Sports Field Our Clare coming away with the win and Louise Saywell and Mac UWE finishing 2nd place and winning the £1000 bonus for the top placed 7 year old in the competition.  It was great to watch such quality jumping and both classes left me wanting more, making me even more excited for the jumping that we have to come over the next few days.
Whilst I was disappointed not to get to watch the Caspian Horse Display and the scurry driving, I will have plenty more opportunities to watch them over the week at HOYS – I cannot wait! However, I did manage to catch Atkinson Action Horses – wow – I think my jaw is still on the floor. They are simply incredible their show features an array of Equestrian talent set to some much loved songs…just breath-taking.
What a first day, to say we hit the ground running would be an understatement.  There are so many things planned for Thursday and I am more than ready to be left star struck by Charlotte Dujardin.