Day two at Horse of the Year Show
I always want to watch everything at Horse of the Year show, but I also realise with the amount going on that it is important to pace myself – I get carried away in a little HOYS bubble – but I just don't want to miss out on any of the action. Therefore it was great to have a little bit of a lie in before going to the show – by golf buggy of course (the novelty never wears off) – to watch James Munro and Ebony King win the Small Show Hunter of the Year Championships – what unbelievable talent we are treated to at HOYS.
Press Lunch
I was delighted to be asked to the Horse of the Year Show press lunch.  We were escorted down to HOYS hospitality – I am sure I have mentioned this before but hospitality at HOYS is an experience in itself.  The food was second to none – I had a delicious pate starter followed by a chicken main.  Amazing food coupled with even better entertainment as we were treated to the Blue Chip Pony Newcomers class – wow what a class.
It was great to be seated next to Sammy Backstrom we had a great chat about life in equestrian sports and comparing the differences between riding in South Africa and the UK – as we have both spent some time out there.  It was amazing to hear her story, she is truly inspirational, and it was great to meet someone so successful in the horse world who has also overcome so much.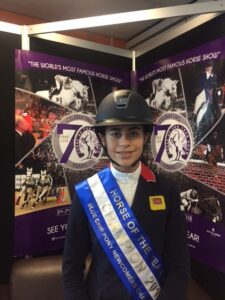 The Blue Chip Pony Newcomers class is a spectacle to behold in itself. The dedication and drive of these young riders is breath-taking and the maturity they show in the ring is well beyond their years.  Clear round after clear round they were battling it out for this title.  First to go in the jump off, Tanhia Jordan – Jones & Jumper threw down the gauntlet, applying the pressure and setting the pace for the jumpers still to come.  The time they set proved unbeatable and Tanhia took the title in this hard fought class.
I got to meet Tanhia for an interview after the class – to be so young, focussed and driven at such a young age and to prevail in an extremely tough class is so impressive.  Tanhia also managed to deal with the media obligations like a pro.
Heavy Horses
I want to say one thing, The Barber Family British Ridden Heavy Horse Championship is by far one of my favourite classes at HOYS – I love watching these big, beautiful, elegant horses and it was great to watch Jamie Bradbury and Hales Hector come away with the win.
Dressage superstar Charlotte Dujardin…
Wow, we were treated to a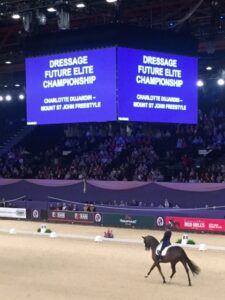 n unbelievable Master Class from dressage superstar Charlotte Dujardin – I am just in awe of her unbelievable skill and everything she has accomplished. It was great to see her take regain her title in the future stars class, this year alongside Mount St John Freestyle. Being so close to such an ambassador for Equestrian leaves me absolutely star struck.
I got to spend some time in the warm-up arena – I love watching competitors just before they are about to go in and see what goes into their preparation.  I am always left speechless at the breath-taking horses at Horse of the Year Show and I cannot wait to see what these horses go onto in the future.
Virbac 3D Worming Pony Club Mounted Games Cup
The gripping Pony Club Games continued, with the third and final round of the Virbac 3D Worming Pony Club Mounted Games Cup.  After coming second to Kent Hunt in last years Virbac 3D Worming Pony Club Mounted Games Cup, Oakley came out fighting with their eyes firmly set on the trophy which slipped away from them last year.  This year back with trainer Steve Garrett, the team mainly consisting of last year's competitors Charlie Yates, Sophie Grimshaw, Jamie Medcalf, Jaimsye Bailey and Luke Grimshaw were this year joined by Charlotte Sabatier –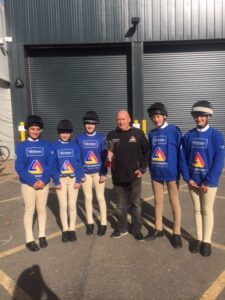 showed great team work to take the title.
I always love the emotion of the parents, supporters, coaches and team-mates when they win the Pony Club Mount Games it is evidence of the hard word, dedication and commitment that these young riders put in to achieve this result.
The scores are now reset as we head into The Prince Philip Cup.
Going Live…
Once again I was live in the studio with Laura. I am always so blessed to be able to talk about Horse of the Year Show – a show which I love so much. I stayed in the studio beside the arena to watch the full Equitop Myoplast Foxhunter Championship, it was great to have an amazing ringside view in such a dramatic class.
An emphatic win…
Wow, watching Matt Sampson and Ebolensky take the title in the Equitop Myoplast Foxhunter Championship and see utter delight written all over his face has to be a highlight from day 2 at Horse of Year Show – once again proving how much it means to our competitors to compete at this prestigious event.  After making it to the jump off and missing out on the title to girlfriend Chloe Winchester in Wednesdays Talent Seekers competition he came out fighting for the title in a class he had his sights set on.
A walking zombie…
I returned to my hotel thankful for all the incredible equestrian action I had gotten to watch.  But although I was a walking zombie, it wasn't time for bed it was time to run through my live zone presentation for the next day.
Even though it never seems possible the days just get better and better at Horse of the Year show.